Catholic Communication National Campaign
Catholic Communication National Collection Campaign
"I believe that the goal is to understand how to enter into dialogue with the men and women of today, in order to appreciate their desires, their doubts, and their hopes... Do not be afraid to be this presence, expressing your Christian identity as you become citizens of this environment. A Church that follows this path learns how to walk with everybody!"  — Pope Francis, address to the Plenary Assembly of the Pontifical Council for Social Communications
The Catholic Communication Campaign is a way that each of us can follow the call to enter into the world of new media and digital networks. Pope Francis emphasized the importance of this endeavor during his first  audience. . . with members of the media on March 16, 2013, saying: "Be assured that the Church, for her part, highly esteems your important work." The Pope has given us an example of witnessing through new media, by his tweets and his daily homilies. . . .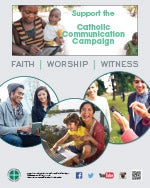 Whether you interact on social media sites throughout the day or prefer listening to the radio, the Catholic Communication Campaign (CCC) provides high quality Catholic content for you. Through Internet, television, radio, and newspapers, the Catholic Church uses media to spread the gospel message both locally and nationally. 
The collection funds an array of Catholic projects, including the For Your Marriage campaign and coverage of important events, like last year's papal election of Pope Francis and communications and media services for his September 2015 visit to the United States, which will include stops in Washington, DC, New York City and Philadelphia  for the World Meeting of Families. . . . Half of all donations collected in your diocese stay in your diocese to support your local communications needs.
 CCC funds also support communications projects in developing nations in Africa, Latin America and other areas  of the world where the Church is growing but lacking in resources. In Kenya, the CCC is developing a long-term plan to assist the Kenyan Conference of Catholic Bishops in deploying a radio network across the country. The stations and equipment will allow the Church to broadcast religious programming. The Kenyan bishops hope to foster strong ethical business plans and moral leadership that will allow the people of their country to realize their full potential and human dignity.
In his message for this year's 49th World Day for Communications. . . Pope Francis calls us to recognize that through communication, "we experience gratitude and joy," and that "relating our experiences means realizing that our lives are bound together as a single reality, that our voices are many, and that each is unique." 
The Catholic Communication Campaign helps us to grow in faith, worship, and witness.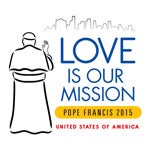 Please be generous in the collection.